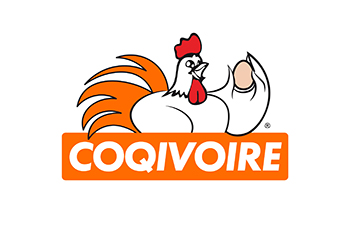 "
Eat delicious chicken meat with confidence ! "
Coqivoire is the largest producer of meat and poultry products in the sub-region. The brand has its own local distribution network to ensure a regular supply in quantity and quality to people, catering professionals and distribution of meat and poultry products.
Coqivoire slaughterhouse has a slaughtering and processing capacity of 2500 chickens/hour and offers the products below under the brand name Coqivoire:
- Whole chicken,
- Poultry cuts
- 100% poultry products.

Coqivoire's slaughterhouse equipment comply with international hygiene and safety standards for poultry processing and is approved by Ivorian competent authorities. Coqivoire's chickens are slaughtered under Muslim rite thus allowing all population to consume products under this brand name.
The distribution of Coqivoire products is made via a fully-owned fleet of refrigerated vehicles ensuring a continuous cold chain:
on the whole modern distribution network in C?te d´Ivoire: GMS and specialized outlets among catering and hotel industry professionals: such as restaurants, street catering (sellers of braised chicken, pubs)
Coqivoire is also a distribution network which owns specialized points of sale called "Les Espaces Frais Coqivoire" (EFC)
Several good reasons to choose COQIVOIRE Chickens

- Hygienic: COQIVOIRE chickens are processed in a modern slaughterhouse approved by the competent authorities of C?te d´Ivoire.
- Safe: COQIVOIRE chickens are raised by professionals in modern farms under veterinary control. They are recognizable by the safety ring which guarantees their origin.
- Best value for money: COQIVOIRE chickens are cleaned and stored in compliance with sanitary standards to ensure its quality. They are well calibrated to offer customers chickens with adequate weights and at fair prices.
- Accessible and close to you: through a large local distribution network composed of the Espaces Frais COQIVOIRE (EFC) established across the territory.
- Home delivery: A team of more than one hundred agents available for the delivery of your Coqivoire products at home or at your place of work free of charge, from local points of sale.
- Halal Chickens: COQIVOIRE chickens are slaughtered under Muslim rite.
- Delicious: COQIVOIRE chickens are popular for their unique taste; in addition they are easy to cook